</noinclude>Lost and Found is the sixth episode of Object Overload.
Plot
The episode starts with Kite waking up from the trap, with a Tiki looking similar to the one on the show scaring her, Kite screams many times before the trap breaks and she passes out. When she awakes, the Tiki tells her that she kept screaming and that the trap broke and that she passed out. Then, Tiki latered explain that Tiki (the one on the show) and Television come from the island. Tiki also said that they were sending a gift for Gamey, but Tiki and Television got inside the box to eventually end up on the show. Meanwhile, Toothy shows Fly Swat their new alliance club house (although it's actually an abandoned tree house). While discussing their plans for later Paper Airplane suggests to bring a new alliance member, and the one he suggested is Boxing Glove. After a rather hilarious scene, he accepts the request to join. Later he properly joins The Alliance during the challenge, convinced by Toothy and Coney.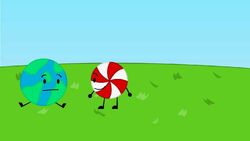 After that Clock is annoyed that Boombox's team said that his team switched the signs in the previous episode, even though it was an accident. Clock was annoyed about this when Casey  asked what he was doing, leading to Clock yelling at her. Casey walks away crying, clearly upset. Clock is sad soon begins to question what he became an outcast, although slightly exaggerated.
Elimination
At the elimination the prizes were chunks of dirt. Locky was safe first, due to having an immunity ticket. Same with Television. Gamey then announced who was safe. The bottom 4 were Picture, Cherry, Tissue and Crayon. The last people safe were Picture and Cherry. Crayon and Tissue were eliminated. This delighted Melony who said, "I'm free!".
Trivia
This episode reveals Tiki and Television's origins.

It is also revealed that Tiki has family members.

Boxing Glove joins Toothy's alliance in this episode.
This is the first episode that had a double elimination.
This is the second time Toaster broke.

This is also the second time Television died.

This is the third time Dusty died.
Soccer Ball, Toaster, Marble, and Pearly don't have speaking roles.
The great tree from "Branching Out" reappeared.
Weird Faces

Ending:
Tissue is seeing old memories and seeing that his friends with Lighter.Crayon is trying kill Melony